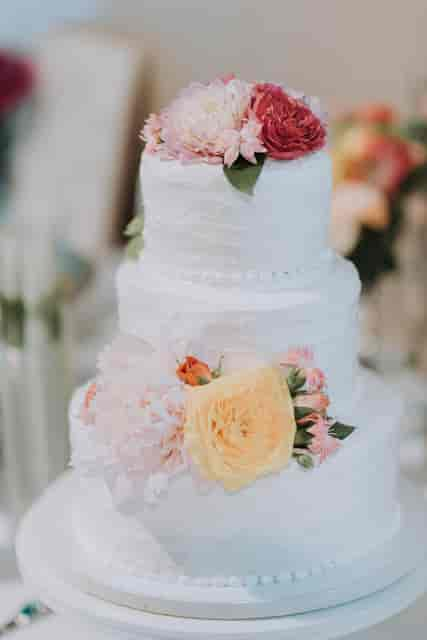 Wedding Cakes
The Red Blazer's Wedding Cake Process
The Blazer Bakery invites you and your fiancé to a complimentary wedding cake tasting and consultation. Tastings are scheduled by appointment Wednesday through Saturday and last around thirty minutes. We offer evening appointments on Fridays. During the months of June through October, we will have limited availability on Saturdays. Call Beth at 603.224.4101 or email beth@theredblazer.com to schedule your appointment. 

The complimentary tasting is for weddings with 50 guests or more. Tasting includes vanilla cake, chocolate cake, along with your choice of 1 other cake flavor. You will also get to sample a few of our popular fillings, or you can choose up to five fillings of your choice. During the appointment you can create your own flavor combinations and discuss design ideas and pricing.

Most cake details can be determined during the first consultation. If a second design session or tasting is needed, a $35.00 charge is incurred. Please feel free to bring color swatches, photos, names of the flowers in your centerpieces. We ask that no more than 4 guests attend the tasting appointment.

Once your wedding flavors and design is chosen and you have decided to have us create your wedding cake a non-refundable deposit of $50.00 is needed to place your cake order. Final payment can be made at any time but is needed one week prior to your wedding date.
DELIVERY & SETUP OF WEDDING CAKES
Cake delivery is based on individual circumstances and location. Individual Wedding cakes are delivered and appropriately set up based on requirements and planning. Our staff will coordinate the safe transport and placement of your cake in a professional and timely manner. 

Call or email Chef Beth for Pricing or other information you may require. Beth@theredblazer.com or 603-224-4101
OTHER NOTABLE ITEMS
• All our batters and frostings are all handmade in house from select ingredients.

• We use only fresh dairy products.

• We can accommodate a range of food allergies and work with you on specific needs.

• We require at least two weeks' notice for a wedding cake and longer based on complexity.

• Wedding Cake pricing starts at $4.00 per person. Minimum order of 30 servings.

Thank you!