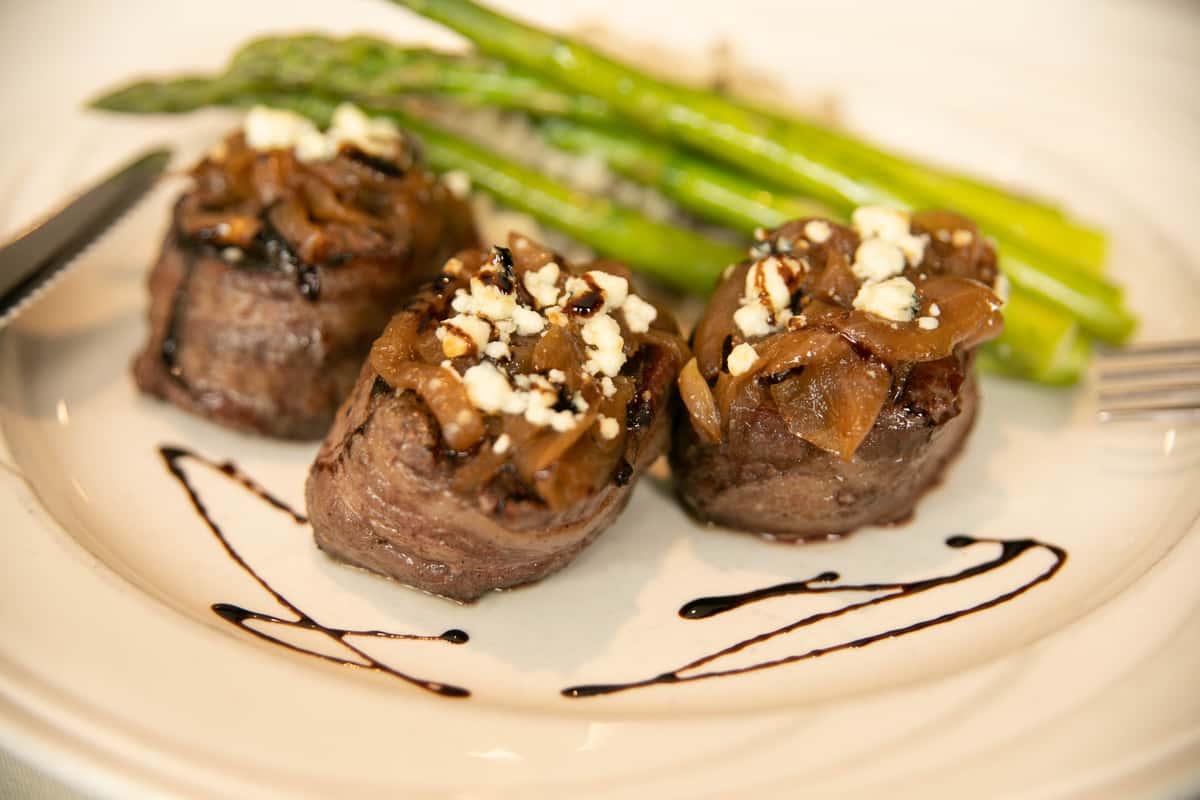 Our Menus
VIP Club
Be the first to receive updates on exclusive events, secret menus, special offers/discounts, loyalty rewards & more!
Dinner
Salads
All salads are served with homemade rolls and your choice of dressing.

All of our dressings are gluten free

DRESINGS:
Italian Bleu Cheese, Buttermilk Ranch, Honey Dijon, Thousand Island, Balsamic Vinaigrette, Oil and Vinegar, and Blueberry Pomegranate Vinaigrette
Soups
Our soups are all homemade and we always use fresh quality ingredients. Please ask your server about our daily soup and chowder specials.
Burgers & Sandwiches
All sandwiches are served on your choice of bread with french fries and a pickle spear.

Bread choices: White, Wheat, Marble Rye, Bulky Roll, or Wrap

Additions ($1.50 each): Bacon, Cheese, Avocado Spread, Sauteed Mushrooms, Onions & Peppers

Substitutions ($1.50 each): Sweet Potato Fries, Hand Cut Fries, Homemade Onion Rings, Broccoli, Gluten Free Bulky Roll, and Ciabatta

Our burgers are sourced from locally raised grass fed beef.
Baskets
Baskets are served with french fries or choice of Starch.
Substitute french fries for sweet potato fries, hand cut fries, homemade onion rings or broccoli - Add $1.50
Pizza
Gluten Free Pizza Crust - add $2.00

Toppings - add $1.50 each:
Steak, Sausage, Chicken, Hamburg, and Bacon

Toppings - add $0.75 each:
Pepperoni, Broccoli, Peppers, Onions, Mushrooms, and Pineapple
Entrées
Includes vegetable Du-jour and your choice of our homemade mashed potatoes, rice or french fries. Substitute with one of the following: sweet potato fries, hand cut fries, onion rings, baked potato, or broccoli. Add 1.50 

Pasta Entrées are served with Garlic Bread. Substitute for gluten free pasta - add $2.00.

Add one of the following:
Onion Soup Gratinee $5.99
Cup Chowder Du-Jour $3.99 
Cup of Soup Du-Jour $2.99
Greek or Caesar Salad $4.99